Unplanned Tour of Guayaquill
The short version is don't let your passport get stolen! My backpack was snatched right from Joan's feet while she was talking to someone else. This was Thursday, 10/25/1001, in the Quito airport in what we thought was a secure area. At least quasi-secure because only ticked passengers were supposed to be there but I did notice a few vendors of trinkets in the area. We continued on to the Galapagos and tried to put the incident behind us and deal with it on our return from the Galapagos.
------------------------------
Monday, 10/29/01
Our odyssey began upon arrival at Guayaquil on Monday with expectations that we might, just might, be able to continue our trip onto Peru that day since they were going to open the consulate just for us even though it is normally closed to the public on Monday's. So with Samantha, a young trainee, and Havil the driver I was whisked off to the consulate in downtown Guayaquil. I began to suspect that things were not going well as soon as Samantha started talking with the first guard, then the receptionist, and then did manage to get buzzed thru the next hurdle to a clerk that told us in no uncertain terms that any passport processing would have to wait till Tuesday. In the vernacular: NFW were we going to get a passport that day!
With Samantha practically in tears after this debacle we headed back to the airport where Leticia, with Joan in tow, was trying to file a police report. I am not sure why, since Metropolitan Travel Agency already had a police report and equally important, an immigration form to prove that we really did enter the country! Its perfectly logical; if you didn't come into the country then you can't leave the country!
At this point it was pretty obvious that we wouldn't make it to Machu Pichu on this trip so we might as well chill out and play tourist in Guayaquil. Metropoliton arranged for us to stay in the hotel Oro Verde, a five star hotel next door to the consulate which was right around the corner from Metropolitan's offices. By the way they must do a lot of cash business as the largest travel agency in Ecuador because we had to get past an armed guard wearing a bullet proof vest. At least he smiled as he held the door open for us. We also learned from our friend Fernando (more on that later) that the manager, Santiago, was just been brought in from Quito to replace the previous manager who I think had been fired.
We booked a flight to Philadelphia via Houston on the assumption that I should be able to get a passport by 9PM the next day. At least we had a plan so we were able to enjoy a very nice dinner at the Ore Verde and retired to our rooms about 9. Then got a call from Samantha who was down in the lobby. What now - had my Senator put pressure on the consulate and Samantha was there to deliver our passport! No, she just wanted to collect the $21 for transport and hand holding services, which I thought a reasonable amount, as well as deliver the forms for a new passport. Since Leticia had accepted a tip from Joan I thought it appropriate to offer Samantha a tip. To my surprise she declined which sort of indicates her concern on not delivering on the Consulate that day. I think she was the fall girl for what others must have known: No matter who you know forms are delivered in the morning and passports picked up after 3 PM that day - IF all the paperwork is in order. If not, you start the process again the next day.
Tuesday, Oct 30, 8:00 AM:
Joan and I went down for breakfast and beheld a line that appeared to stretch at least around the block. Great! We could spend a week in that line and never get through! We found out that that line was for Ecuadorians trying to get a visa to the US and the process is a long one. With Santiago, the Metropolitan manager we went to the consulate. When he asked ME what door we should go in, it began to soak in that he didn't have a clue about the US consulate's procedure for replacing a lost/stolen passport. We took a number and waited to find out that we needed an immigration card to get out of the country. You know, the green card we got when we entered but it wasn't green and besides it was stolen along with my passport. Well you can't leave the country until you can prove that you arrived in Ecuador. The fact that I was standing there seemed to have little relevance as to my presences in the country! Besides we didn't have the requisite passport photos.
Wasted trip and over to the instant photo place to pick the photos that had been shot yesterday afternoon. They were originally promised for 11AM today and I was able to talk them back to 9:30 AM and they were actually ready by 9AM. Tip: for the cost of a roll of film you can get them instantly in an hour or so. I guess they were hoping to fill up the roll of film of all the other folks with stolen passports that week. In fact this is were Fernando comes in.
Here is my passport picture. Don't I look like the happy American Tourist?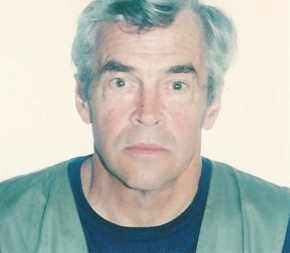 Trip three to the Consulate: we had forms, police reports, immigration report and pictures. They actually took our papers and handed me a bill for $60 to be paid down stairs. They were accepting money, a good sign that the process was moving forward. Next step an interview with the consulate person at 11AM. We could go back to the hotel and chill for a bit.
10:37 time to leave for our interview and the hopes that we could pass muster and not be confused with an Ecuadorian, desperate for a job in the states, or a terrorist! Got on the elevator that somehow got programmed to go to the executive offices on the 8th floor. Wrong stop and for a moment we thought we were trapped here and would miss our interview time by a few minutes, go to the back of the line and start the process all over. Knowing that we were on South American time eased our concerns somewhat.
Trip four: By now we were old hands at cutting through the queue and nodding to the guard to gain entrance so we didn't need Santiago's escort. Pick a number. "no habla Espanol" therefore cut in line regardless of what number is called. Informed to please be seated and I would be called by name in English! It was then that we met Fernando. He saw my Galapagos travel vest that Joan had bought me to keep little things like passports safe and struck up a conversation.
Guess what he was doing there? He was trying to expedite two stolen passports of a couple who passed thru the infamous Quito airport the following day! He was the programs manager for Adventure travel, and he knew the procedure and how the system worked.
We passed the interview with flying colors with a convincing performance of a typical "Norte Americano Touristas". Pick up passport at 3 PM.
About 2:30 we get a call from the lobby. It's Fernando with two of his Galapagos tour group in tow and he would like us to commiserate with them. Also, we were now the resident experts in passport recovery procedure so we were able to help them fill out the forms and get it right the first time.
Trip five: Back to the consulate with Fernando, Ken and Judy in our entourage. Fernando was hoping that he could expedite the process since he knew the consulate person from various social function he attended there. We picked up our passport with out problems but as far as expediting they had told Fernando to wait while they checked and we waited. Fernando checked and they had turned out the lights in the office. Note we were not in the office since all transactions are conducted from behind counters protected by bullet proof glass.
Anyway, this did not look promising for Ken and Judy. It was not clear how long it was worth waiting so we took our leave and headed for the Malecon which is Guayaquil's show place along the river. It was quite spectacular and we witnessed the preparations for the Grand opening of the botanical gardens. I think we were the only American tourists among a few thousand people there.
Ken and Judy - hope you got your passports ok and had a safe trip back to California.
Here we are playing tourist along the Malecon in Guayaquil after finally getting my passport:)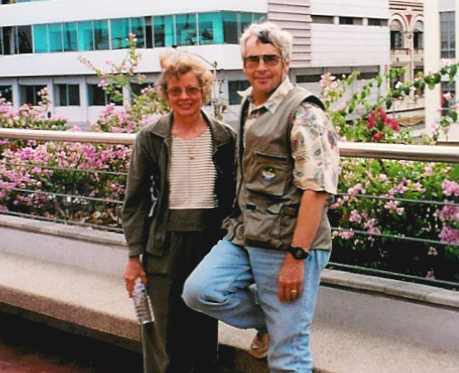 -Jim & Joan