Palau - May 5 to May 12
We left Chuuk via the Chuuk international Airport.
This airport is supported by the US marines as can be seen by the hardware present.
One of those F-18's gave us a good show earlier in the week and some of the marines stopped by for a tour of the Odyssey. Seems they were "stuck" there waiting parts which would take at least a week to arrive. Tough duty!
We started our diving in Palau on Sunday, 5/6/01, and although there are a lot of WWII wrecks in Palau we focused mostly on the reef diving with its incredible array of marine life. Our lunches were hot and served usually on a pristine beach but the fare was Asian with lots of rice. However, good old western style sandwiches was available. I stuck with the rice and chopsticks fare. One of the islands where we lunched
at was named two dog island

but this year it was down to one dog and judging by the condition of that dog it will probably be no dog island by next year!
The reef diving was great and some of the best pictures are on the video that Bill and I shot on Friday. Here are a couple of thumbnails you can click on to get the flavor:
And here is a sleeping shark that I cruised by
while Bill K directed the shark traffic!
Another interesting spot was Chandelier Cavern.

I guess it qualifies as a cavern since one can still see light from the entrance - barely! Here is the entrance to the cavern

There were four caverns that you can surface in and since we were at low tide no danger of banging your head!

We visited Jellyfish Lake which is a landlocked sea where only the jellyfish live. Paul had been there before so he went fishing instead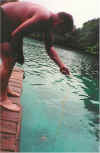 I checked out what he was fishing for -
no sharks!
Yes, it does rain in Palau but only occasionally and who cares when you have delightful friends like this monkey at Fish & Fins!

Linda was especially fond of this little fella- NOT:)
By the end of the week our dive computers said we had better not dive on Saturday our flight day, so we took a land tour with Fish & Fins. Yes, they do that as well, but I think their boats are better maintained than the 4 wd they rented for the tour! The drive shaft fell out before we even got out of town. No problem as Lenny took his personnel car and we were on our way.
The bad news was it rained but the good news was we had 4wd, however, we did manage to get sideways on the greasy clay road on the way back.

They are doing road "improvements" and in two years have made little visible progress. Not sure why they are bothering but I guess it provides employment and they are finding lots of WWII ordinance in the process.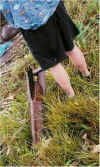 Lenny, our guide did think the bridge might get done however.
Yes, we did reach our objective (see map) of the water falls but with the rain the snorkels were a bit of an overkill. For some reason I don't have any pictures but I managed to get a colorful ding on my shin playing around in the falls.
Lots of evidence of WWII -->
But there was a time before when Palau was unknown to most of the world and sad to say we can't go back!
But at least some of the early history is preserved.